MissionPublished on 28.01.2020
New publication: Archbishop Anastasios, "Mission in Christ's Way" (in German translation)
At the Study Center for Eastern Churches, the book of Archbishop Anastasios (Yannoulatos), the head of the Autocephalous Orthodox Church of Albania, "Mission in Christ's Way", was translated into German. The book "Mission auf dem Weg Jesu Christi" was published on 23 January by the publishing house Aschendorff . It will be officially presented to the Archbishop on 2 February 2020 during a study trip with doctoral students in Tirana.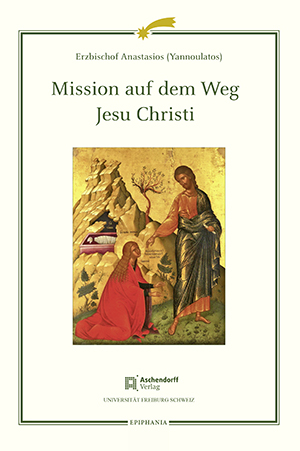 Archbishop Anastasios was with all his heart a professor and researcher of theology and history of religion, among others at the German universities of Hamburg and Marburg. He followed the call of the Church and wholeheartedly entered into the service of the Church of Greece, later the Patriarchate of Alexandria. In 1992, as head of the Orthodox Church of Albania, he took over the rebuilding of the Local Orthodox Church, which is tantamount to a "resurrection".
The contributions to a theology of mission presented here are saturated with the commitment of his life and breathe the spirit of the Gospel. The author's pioneering role in the Orthodox Church's renewed attention to external mission and dialogue with religions is a source of inspiration for the Western churches.
Cover: The last commandment of Jesus Christ says: "Go therefore, and teach all nations ...". (Matthew 28:20). With the same word the Risen Lord addresses Mary of Magdala: "Go therefore to my brethren, and say unto them, I ascend unto my Father, and your Father; and to my God, and your God"" (Jn 20:17). This scene is shown on the cover with a 16th century icon from Crete. For Archbishop Anastasios the source and content of mission is the resurrection - which his name expresses.
---